Mobile Website Design & Engagement
In our mobile world, mobile website design is necessary.
About 70% of website users browse and buy online on a mobile device. Don't miss out on these ever-growing part of the audience – get your own, intuitive mobile website design from Melbourne-based digital marketing experts relación. It all starts with understanding the connections and outcomes you are looking for. The user experience, especially on such small screens, is vital. We make sure you mobile website design is not only appealing but can convert your audience into clients and, ultimately, revenue.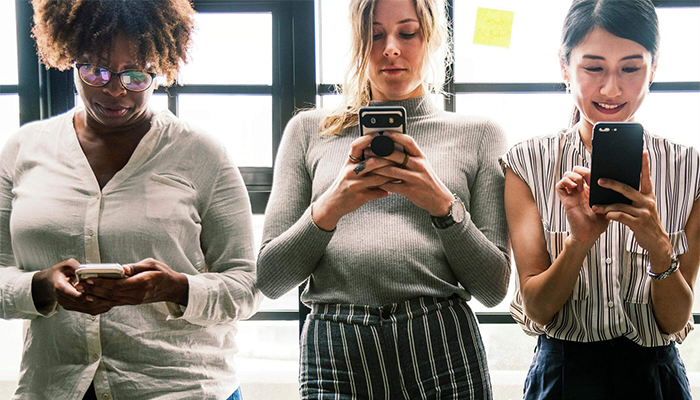 Mobile Website Design & Engagement
Our mobile website design and engagement focuses on smartphones and tablets, as people spend over 20 hours a week on these devices. How are you going to make your business stand out? We can help with the digital business strategy, mobile website design, app development and content. Think mobile-first solution and we start there. All our websites are automatically designed to be comfortably readable on smaller screens, and if you want to add the extra plus in usability and functionality, we'll develop a highly intuitive app for you.
relación has an experienced team in Melbourne: mobile website design specialists, user experience designers and content creators that support you every step along the way. Show off your products and services to clients in an clear and beautiful way, so even on mobile devices, they find it easy to navigate on your website or app and convert into customers. With a straightforward mobile strategy, an accountable task list and fresh ideas, we'll create a mobile website or app that you'll love – and your customers, too.
Smart structure
Every successful mobile engagement strategy consists of clearly defined goals and a laid-out pathway to achieve them. We start with getting to know you and your customers, so we can design the mobile website or app that perfectly suits your needs. When we have an attuned picture, our mobile website designers and developers get to work.
Intuitive use.
As we design your mobile website or app, we always keep the digital user experience in mind. It is the key part of a smoothly working and intuitively usable mobile application and the most important factor of creating joy and trust when using your services. Our Melbourne-made mobile website designs should not only look beautiful, but also be user-friendly.
Measurable outcomes.
Once your mobile website or app is launched, we regularly check the metrics to see if we can improve anything. We help you to create interesting content and to promote your new mobile website or app with digital marketing campaigns. Drive increasing revenue on all devices by supplying the platforms that your clients use.
Our Mobile Website Design & Engagement Work
.